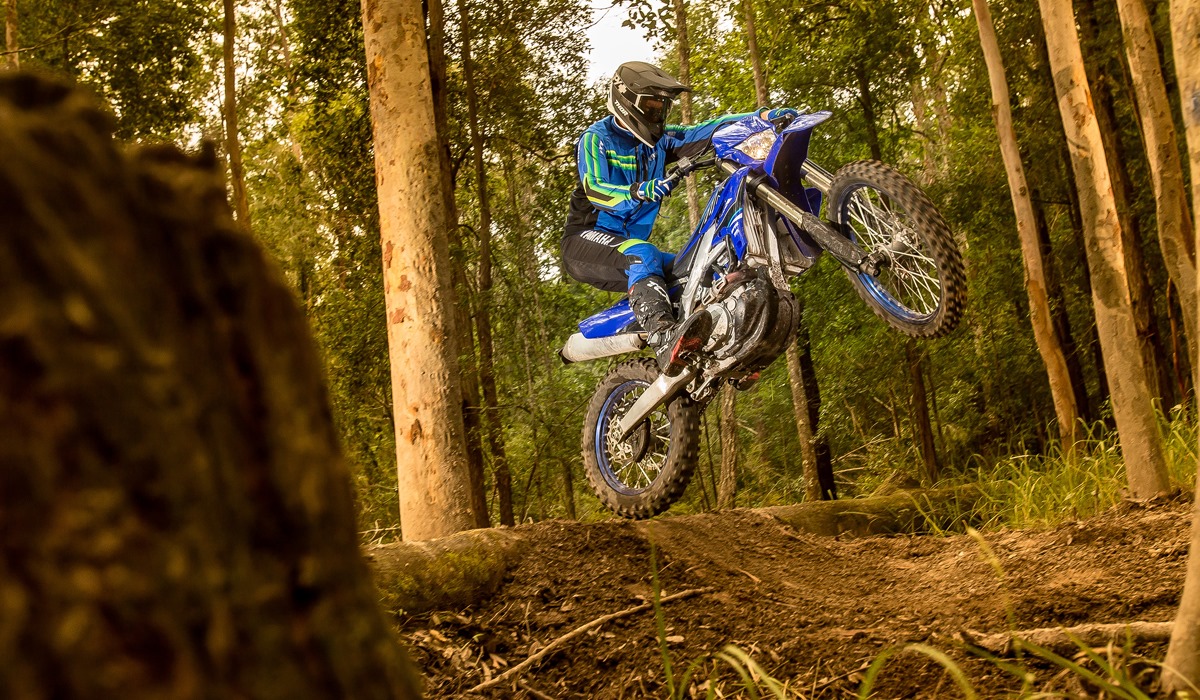 All-new WR450F: Increased power, sharper handling and stronger braking
With an outright ISDE win and numerous Enduro World Championship podiums to its credit, the Yamaha WR450F is recognised throughout the off road world as being one of the quickest, toughest and most competitive bikes in its class.
For 2021 the all new WR450F is completely redesigned, and now benefits from the same advanced engine and chassis technology first seen on Yamaha's latest generation YZ450F motocross bikes. Equipped with a lighter and more powerful engine as well as an all-new sharper handling aluminium bilateral beam frame - together with an industry-leading suspension package and outstanding new braking systems - this high-tech enduro weapon goes, turns and stops better than ever before. Featuring one of the highest specifications in its category, the 2021 WR450F is waiting to be unleashed by experienced enduro racers and trail riders who demand the very highest levels of useable engine performance along with lightweight manoeuvrability, added stability, easy cornering and outstanding braking.
Finished in a dynamic new Icon Blue colour scheme and featuring blue number plates and minimalist graphics, the 2021 WR450F comes with a range of the very latest best-in-class technology - giving every off road rider the opportunity to up their game and take their performance to the next level.
Lighter, more powerful and compact new 450cc engine
The current WR450F engine is already renowned for its wide band of enormous power and outstanding torque that deliver impressive performance in a wide variety of riding conditions.
In order to be able to achieve even stronger and more controllable power across the rev range, Yamaha's engineers have developed the all-new WR450F powerplant, based on the latest high performance YZ450F motocross engine, that is significantly lighter and more compact. Yamaha have made a number of key technical adjustments to suit the different requirements of the enduro rider, including model-specific intake and exhaust systems, as well as optimised fuel injection and ignition maps for the ECU that help to deliver more useable and controllable power together with strong topend performance.
New cylinder head and piston design
The 2021 WR450F engine features a new lighter cylinder head and new piston design that gives an increased compression ratio - up from 12.8:1 on the 2020 WR450F to 13.0:1 on the new model. With its long and straight front-facing inlet, the WR450F's reverse cylinder head offers outstanding efficiency, and for 2021 the intake port shape is revised and the intake and exhaust valve angles are changed from 21.5 degrees to 14.5 degrees to create a more concave combustion chamber for enhanced combustion efficiency and stronger power across the rpm range.
The new cylinder head is equipped with a large number of magnesium components that contribute towards a 310g weight saving, and features relocated camshafts that are positioned closer to each other - while the vertical distance between the camshafts and the crankshaft is also reduced to give a much more compact layout. The combination of lower weight and reduced dimensions achieves enhanced mass centralisation, and this contributes significantly towards the new model's lighter feeling and increased agility when cornering - making the 2021 WR450F one of the easiest-handling large-capacity enduro models.
Yamaha Power Tuner for easy smartphone tuning
In 2019 the WR450F pioneered the use of advanced digital technology when it became the first enduro bike to feature onboard connectivity that enabled remote wireless tuning via a smartphone. The all new2021 model continues to lead the field with its Yamaha Power Tuner that enables riders and mechanics to quickly and easily adjust the fuel/air mix and ignition timing mapping so that the bike can be set up to suit different circuit and weather conditions.
After downloading the free Power Tuner app for IOS or Android devices it's possible to fine tune the bike's engine character via a smartphone, enabling WR450F owners to achieve optimal performance to suit fast MX tests as well as tricky technical terrain. Riders can also access and record a range of data, including system diagnosis, engine run time and more, making the Power Tuner an indispensable part of any toolkit!
Handlebar-mounted adjustable mapping switch
The 2021 model is equipped with a handlebar-mounted mapping switch that enables the rider to select one of two maps while riding. By switching between maps the rider can select the best engine power character to suit changing weather conditions or terrain variations, making the WR450F more adaptable and controllable wherever it goes.
Compact electric starter
The new high-performance 450cc engine comes with a compact and lightweight electric starter that enables the rider to get moving quickly and effortlessly. Which is particularly useful when starting on a hill or when riding across a steep gradient.
Advanced fuel injection system
The 2021 WR450F is equipped with a highly-advanced fuel injection system that has been successfully used on the latest YZ450F motocross bike. The reverse cylinder head feeds cool and fresh air via a front-facing straight inlet into the latest Mikuni® fuel injection system. Equipped with a 44mm throttle body and a high pressure electric pump, this fuel injection system delivers the atomized fuel/air mix into the compact new high compression cylinder head for excellent running performance at all engine speeds.
High efficiency angled radiators
To handle the significantly increased levels of both power and torque, the higher specification 2021engine is equipped with newly designed high efficiency radiators. For optimal cooling efficiency for winning performance, these new radiators are angled so that they face the incoming airflow more directly, ensuring that the 450cc engine is able to run efficiently throughout the day. There's also a thermostatically controlled fan that cuts in when required to maintain a strong and consistent flow of air in slow or hot riding conditions.
Tougher wide ratio 5-speed transmission
The 2021 WR450F's 5-speed transmission is engineered to handle the toughest tests that endure offers. It's specially designed shift drum and selectors give improved feel together with a shorter stroke when changing gear, and the uprated heavy duty clutch is built to deliver increased durability for consistent operation throughout the longest enduro. The WR450F's gears are manufactured with a larger surface area compared to the motocross model, and this helps to spread the load more evenly for smoother shifting and increased durability. Running with a lower 1 , 2 and 3 gear - and a higher 5 gear - than the YZ450F, the enduro model's transmission provides the ideal choice of ratios for technical and high speed riding.

Mass-centralised wraparound exhaust
By keeping all of the major components located close to the machine's centre, the WR450F's compact new lightweight reverse cylinder head engine achieves excellent mass centralisation, and this plays a crucial role in contributing towards the bike's lightweight and agile handling. Fitted with an endure specific muffler, the wraparound exhaust is a perfect example of how Yamaha's engineers are able to keep weight close to the bike's centre and achieve increased power and control.
New lighter aluminium frame for sharper handling
The 2021 WR450F features an all-new lightweight aluminium bilateral beam frame that is manufactured using the same controlled fill technology as the flagship YZ450F motocross machine. To suit the different requirements of enduro riders the frame's rigidity balance has been retuned by using thinner main spars together with thinner bottom tubes. In addition the shape and the bolt tightening stiffness for the front and rear engine mount brackets is also modified to give improved feedback over bumps and an enhanced feeling of connectivity with the track surface.
Revised front end rigidity
Further WR-specific chassis tuning can be found at the front end, where the new lighter top triple clamp, front wheel axle and bar mounts have all been redesigned to deliver a more precise steering feeling as well as improved grip. And to make it easier for riders to shift their weight over the frontend, the handlebar position is moved 15mm forward and 5mm lower.
Industry leading suspension systems
Featuring speed sensitive damping that ensures excellent bump absorption and strong traction at all riding speeds, the fully adjustable coil spring twin chamber KYB® forks are widely regarded as being one of the ultimate front suspension systems in the off road business. Using the same high-tech forks at the latest YZ450F and equipped with speed sensitive damping and special enduro-specific settings, this industry-leading front end enables the rider to fully exploit the increased engine performance of the all new 2021 WR450F.
At the rear end the WR450F is fitted with a fully-adjustable link-type system that's equipped with a specially-tuned KYB® shock. Running with enduro-specific settings, this lightweight rear suspension system is designed to deliver excellent traction at low and high speeds together with extremely effective bump absorption at all speeds.
Stronger stopping power
As well as going faster the 2021 model also stops faster, enabling riders to make up valuable time in tight sections. Like the latest YZ450F, the 2021 WR450F benefits from a more rigid front brake caliper running with larger pistons - up from 22.65mm to 25.4mm diameter. Brake pad surface area is increased by 25%, and the newly designed 270mm front disc gives a 16% increase in contact area without any weight increase.

More compact multifunction display
For 2021 the WR450F is fitted with new multifunction display that is much more compact and easier to read. The meter features an odometer, two trip meters, clock, timer/stopwatch - and a new and very useful fuel consumption indicator that enables riders and teams to plan fuel stops more accurately. The unit features a higher contrast LCD display that offers better readability in all conditions, and its unified design and reduced width and depth give a much neater look that enhances the feeling of lightness from the rider's viewpoint.
Lighter chromoly footpegs
New chromoly footpegs replace the previous stainless steel units, to give a 70g weight saving. Further weight savings are made by using the lightweight front axle, top triple clamp and handlebar clamps from the latest YZ450F.
Dynamic new Icon Blue colour
To mark the introduction of the most advanced enduro bike ever produced by Yamaha, the 3generation WR450F is finished in a dynamic new Icon Blue colour scheme in common with all of the2021 Yamaha Off Road Competition models. Minimalist new graphics reinforce the bike's purposefuland sophisticated new look, and the front and side plates are also finished in the Icon Blue to give acoordinated and professional appearance.2021 WR450F Technical Highlights
2021 WR450F Technical Highlights
Ultra-compact new YZ450F-based engine, increased power and improved control
Lighter and more compact cylinder head
New piston design and increased compression ratio
Yamaha Power Tuner for instant track-side tuning via a smartphone
Handlebar-mounted engine mode switch for on-the-fly adjustment
Advanced fuel injection system with enduro-specific settings for optimum power
Large capacity angled radiators with fan ensure effective engine cooling
Robust enduro-specific 5-speed wide ratio transmission
Heavy duty enduro clutch for positive shifting and consistent performance
Lighter aluminium bilateral beam frame with enduro-specific rigidity balance
Class-leading KYB® coil spring-type speed sensitive front suspension
Link-type rear suspension with specially-tuned KYB® shock
Revised riding position and 4-positionadjustable handlebars
Lighter YZ450F type front axle, top triple clamp and handlebar clamps
Lighter and more powerful brakes
Tool-free airbox access
Compact electric starter
7.9 litre fuel tank and compact fuel pump
Lighter chromoly footpegs and forged aluminium sidestand
Large plastic engine guard
Sealed chain