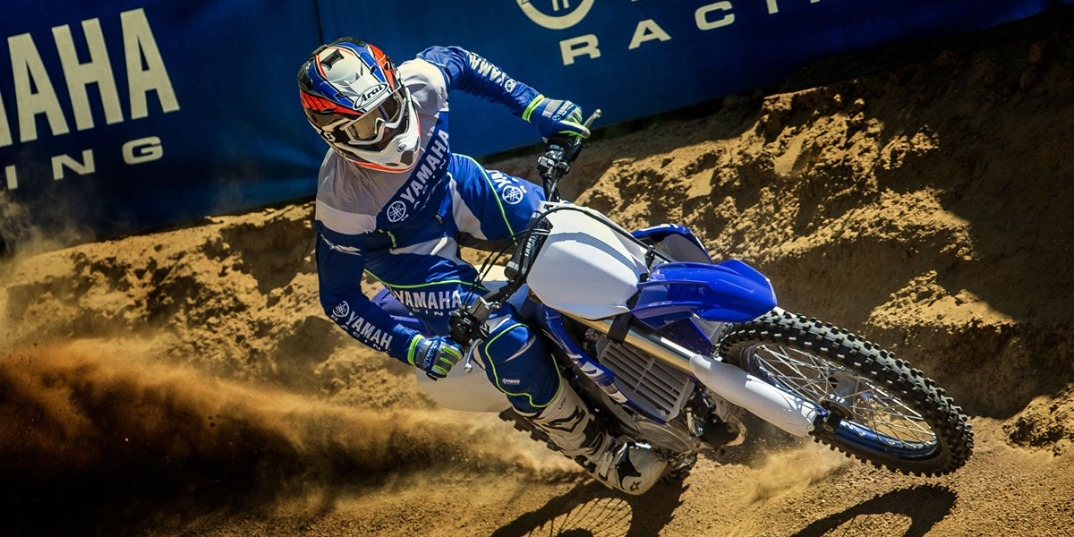 There's never been a better time to go off-road with Yamaha, whether you're just starting out or for looking for the ultimate competition machine, with our new finance campaign all Off-Road Motorcycles and Mini Quads are available at 6.9% APR over 36 months, so you could be riding away on the bike of your dreams right now.
You can get your hands on the all new 2021 YZ250F, equipped with thoroughly a refined engine, revised frame, new suspension settings, new brakes and advanced digital technologies.
Offer available on selected Conditional Sale agreements for a limited period.
Finance subject to status. Terms and conditions apply. 18's and over. Guarantee may be required. Santander Consumer Finance RH1 1SR trading as YOU Yamaha Motor Finance.
Representative Example
Scroll horizontally to view the full table
| Model | Monthly Payment | Cash Price | Customer Depotit | Amount of Credit | Interest Charges | Total Amount Payable | Duration Agreement | Fixed Interest Charges | Customer APR |
| --- | --- | --- | --- | --- | --- | --- | --- | --- | --- |
| YZF450F | £189.00 | £7,799.00 | £1,649.81 | £6,149.19 | £654.81 | £8,453.81 | 36 months | 6.69% | 6.9% APR |
| YZ250F | £179.00 | £7,499.00 | £1,675.21 | £5,823.79 | £620.21 | £8,199.21 | 36 months | 6.69% | 6.9% APR |
| YZ250 | £169.00 | £7,099.00 | £1,600.56 | £5,498.44 | £585.56 | £7,684.56 | 36 months | 6.69% | 6.9% APR |
| YZ125 | £149.00 | £6,299.00 | £1,451.23 | £4,847.77 | £516.23 | £6,815.23 | 36 months | 6.69% | 6.9% APR |
| YZ85LW | £105.00 | £4,399.00 | £982.80 | £3,416.20 | £363.80 | £4,762.84 | £36 months | 6.69% | 6.9% APR |
| YZ65 | £99.00 | £4,099.00 | £877.92 | £3,221.08 | £342.92 | £4,441.92 | 36 months | 6.69% | 6.9% APR |
| PW50 | £39.00 | £1,599.00 | £330.03 | £1,268.97 | £135.03 | £1,734.03 | 36 months | 6.69% | 6.9% APR |
| WR450F | £195.00 | £7,899.00 | £1,554.72 | £6,344.28 | £675.72 | £8,574.72 | 36 months | 6.69% | 6.9% APR |
| WR250F | £185.00 | £7,599.00 | £1,579.94 | £6,019.06 | £640.94 | £8,239.94 | 36 months | 6.69% | 6.9% APR |
| Mini Quads | | | | | | | | | |
| YFM90R | £69.00 | £2,799.00 | £553.96 | £2,245.04 | £238.96 | £2,553.30 | 36 months | 6.69% | 6.9% APR |
| YZF50 | £59.00 | £2,349.00 | £429.30 | £1,919.70 | £204.30 | £3,037.96 | 36 months | 6.69% | 6.9% APR |